Public Wi-Fi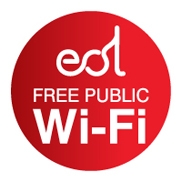 Tauranga is NZ's FREE Wi-Fi City With...
Network capacity for over 5,000 simultaneous users from multiple Wi-Fi ZONES throughout the Western Bay of Plenty. Coverage Map
Almost all hotspots around the world use 'small hotspot technology' with limited and inconsistent coverage and speed. At EOL we have taken a different approach and created ubiquitous Wi-Fi ZONES. These are large overlapping areas up to 1km across that provide high performance reliable public internet access for large numbers of users. The unique Wireless Beamforming Technology gives coverage both inside and outside so users can connect from almost anywhere. In the following diagram the difference between ZONES and hotspots is demonstrated dramatically, with ZONE technology offering more than 5 times the coverage and bandwidth than a conventional hotspot.
EOL Public Wi-Fi provides fast, seamless connection to the Internet, helping you save on mobile data and phone charges. Once you've connected successfully one time, your device will automatically connect you every time you're in range, anywhere on our network.

FREE 200MB 1 day passes auto-renew every 24 hours!
Day passes expire either at the end of the specified period, or when the data has been used - whichever comes first. A 'day' means 24 hours from when you first log in.

**IMPORTANT: Only one simultaneous login per hotspot account is permitted at any one time. You must logout of your account on one device before you can connect another device to the same account. If you want to connect more than one device on the same account we suggest you tether the additional devices by Bluetooth or Cable to the wi-fi connected device.

*Restrictions may sometimes apply to FREE passes
To connect
1) Scan for available networks on your device, and look for the ID 'EOL_Public_Wi-Fi'. If available, click on this ID to connect and bring up the welcome screen.
From the Welcome Screen select either...
2) the FREE option, accept the terms and conditions and you are ready to use the Internet.
or
3) the **Paid option. Payment is by either VISA or Mastercard through our secure payment Gateway when you first connect.
As we have no control over your location, we suggest you try a FREE account first to make sure you are in range before purchasing a paid account - credits are not given due to poor reception. If reception is unsatisfactory try moving to a different location, preferably outdoors and closer to the repeater. Find your nearest repeater on our Coverage Map.